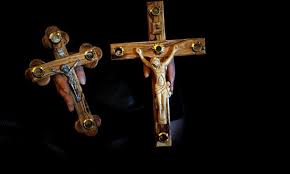 Readings for Holy Saturday can be found by clicking here
Reflection by the Revd John Macleod
Today is the day after yesterday, the day before tomorrow: it is a day of stillness, the null point of eternity. For those who had walked the way of the cross, for those who had loved him, Mary his mother, Mary Magdalene, Peter, James, John and the other disciples, this was the day of deepest gloom. Burdened by the ignominy of the crucifixion, not a way for the Messiah to die, inconsolable, borne down by the death of their beloved. Yet even in death his modest followers had done him right service. Joseph and Nicodemus, treating the holy body with reverence and great courtesy had wrapped him in the swaddling linen of the grave and bathed him in the scent which prefigured the fragrance of heaven. A loving conclusion for an ending which was not yet.
For whilst those who grieved may have covered themselves with dust and ashes, the Lord of Life was busy elsewhere. Tradition is one of the pillars of our faith and it is the understanding of the Church from ancient time that on Holy Saturday Jesus descended into hell, laid waste to it and rescued from it Adam and Eve and all those who had died in the intervening time. Their sins, our sins, forgiven. The old Adam rescued by the new, by the first born of all creation. In this image is the hope which enlightens us all. It is for this that the Cross was, made certain in the triumph of the Resurrection.
As we sit today in the darkness of yesterday, we look forward to that which is to come, to the light of Christ banishing the darkness of the world and the desolation of our lives. For tomorrow is the Day of Days when our Lord will banish death forever, and the glint of the new light even now shines in our hearts.